This Thanksgiving season, 1,500 turkeys were handed out to veterans, active-duty members of the military and their families in Clarksville, TN. Val DiGiorgio shares the wholesome holiday story: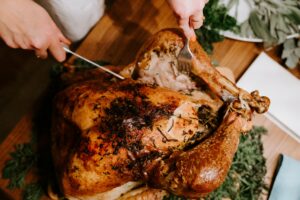 By now, it's a Clarksville tradition! Turkeys for Troops is a non-profit effort that actively works to feed hundreds of military families during the holiday season. The fourth annual event was a smashing success, with 1,500 turkeys distributed to the brave men and women who fight for our nation's freedom. Each family who attended the event received one frozen turkey along with a 2-liter bottle of soda. For a family in need, this act of kindness exemplifies what Thanksgiving is all about. Volunteers who participated in Turkeys for Troops will agree that it's also a testament to the hospitality and camaraderie that is alive and well in Clarksville, TN — a town that wholeheartedly supports the military members in the community.
Val DiGiorgio appreciates the warm generosity of Turkeys for Troops! This effort certainly does not go unappreciated, though he extends a 'thank you' of his own. The wonderful volunteers who dedicate their time to Turkeys for Troops this year and any other year are also to be applauded! And as always, DiGiorgio thanks all members of the United States military, including active-duty, reserves members and veterans.