On June 17, 2021, the Orange County Community Foundation will host "Stand and Salute," a Giving Day that aims to raise more than $125k for veterans and their families. Val DiGiorgio shares how you can help: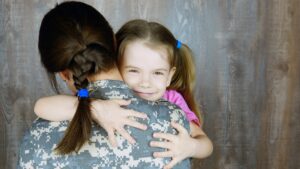 Stand and Salute the brave men and women who've fought for our nation's freedom in the US military and armed forces… This Giving Day, it's time to give back to veterans! Orange County Community Foundation is setting a goal to raise funds for 6 area nonprofits that support veterans and military families. All funds received will directly benefit initiatives that facilitate much needed resources and services in the community, from family support and mental health programs to financial counseling.
Nonprofits involved in the Stand and Salute event include:
Working Wardrobes
Support the Enlisted Project
Goodwill of Orange County
Strength in Support
Strong Children Program
2-1-1 Orange County
To learn more about how you can participate in Orange County Community Foundation's Stand and Salute Giving Day event, visit the initiative's website.  Or consider supporting local veterans and military families by donating to nonprofits in your own community on this Giving Day — or any other day of the year!