To say the least, reaching a goal as a nonprofit organization has been incredibly difficult throughout the pandemic. To everyone's surprise, the Salvation Army was able to overcome hardships this year and meet their 2021 Red Kettle Christmas Campaign goal. Val DiGiorgio shares the good news: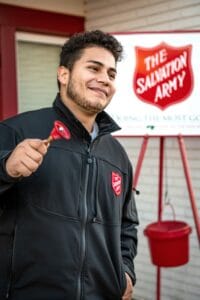 This past year, nonprofits like the Salvation Army were hit hard.  Restrictions and a slew of other issues posed a barrier between organizations, volunteers and supporters.  Unable to host the vast majority of their typical annual events, nonprofits truly struggled.  The Red Kettle Campaign is a staple for the Salvation Army.  But sadly, they were not certain if they would be able to reach their goal for 2021, due to various reasons.  One such reason was a devastating amount of theft and other negative incidents, which Val DiGiorgio previously covered here on his blog last year.
However, despite all the issues posed against them, the Salvation Army pulled through!  They were able to draw in more than $563,000 in support for the Christmas Campaign!  Val DiGiorgio congratulates the nonprofit on their efforts and their ability to persevere through adversity.